---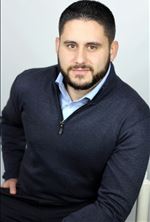 Licensed Salesperson
Email Me
---
About Me
Professional Experience:
Real estate consultant looking forward to building and maintaining loyal relationships with all his clients. Referrals are the greatest compliment he can receive.
Memberships and Affiliations:
National Association of Realtors, Inc.
New York State Association of Realtors, Inc.
Long Island Board of Realtors
New York State Licensed Agent
Education:
Bachelors in Business and Administration, Pace University
Anthony comes from a hedge fund and accounting background giving him the investor mind set and analytical strengths to analyze and break down the best outcomes for home owners and home buyers alike.
He has been a resident of the Connetquot area from 1991-2012 and currently resides in the Sachem area since 2012 with his wife and kids. He enjoys mountain biking, boating, traveling, and spending time with his family and friends.
My Listings
My Under Contract Homes
My Sold Homes
76 WaterWay

Jamesport, 11947
$730,000
3 Beds | 3 Baths Full | 1 Baths Half
Lot Size: 0X0 SqFt
Listing ID: 3034912
8 Columbus Dr

Huntington Sta, 11746
$715,000
4 Beds | 4 Baths Full | 0 Baths Half
Lot Size: .46 SqFt
Listing ID: 2926157
22 Spruce St

Hicksville, 11801
$675,000
4 Beds | 2 Baths Full | 1 Baths Half
Lot Size: 80X100 SqFt
Listing ID: 3006361
1A Quenzer St

Nesconset, 11767
$650,000
4 Beds | 2 Baths Full | 1 Baths Half
Lot Size: .46 SqFt
Listing ID: 3018071
2 Links Rd

Smithtown, 11787
$623,000
4 Beds | 2 Baths Full | 1 Baths Half
Lot Size: 1.1 Acres SqFt
Listing ID: 3054429
75 Merritt Ave

Massapequa, 11758
$615,000
3 Beds | 2 Baths Full | 1 Baths Half
Lot Size: 75X100 SqFt
Listing ID: 3023850
1 Oakfield Rd

St. James, 11780
$610,000
4 Beds | 3 Baths Full | 1 Baths Half
Lot Size: 1 Acre SqFt
Listing ID: 2959881
224 Singingwood Dr

Holbrook, 11741
$530,000
4 Beds | 2 Baths Full | 1 Baths Half
Lot Size: .22 SqFt
Listing ID: 3008934
3 Eileen Ct

Commack, 11725
$515,000
4 Beds | 2 Baths Full | 1 Baths Half
Lot Size: 0X0 SqFt
Listing ID: 3054859
99 Vanderbilt Blvd

Oakdale, 11769
$508,000
4 Beds | 3 Baths Full | 0 Baths Half
Lot Size: 100X200 SqFt
Listing ID: 3088026
57 Evergreen Ln

E. Patchogue, 11772
$485,000
4 Beds | 2 Baths Full | 1 Baths Half
Lot Size: 0X0 SqFt
Listing ID: 3009119
7 Haskell Ln

Stony Brook, 11790
$471,500
3 Beds | 2 Baths Full | 0 Baths Half
Lot Size: .42 SqFt
Listing ID: 3062308
7 Wadsworth Pl

Smithtown, 11787
$449,000
3 Beds | 2 Baths Full | 0 Baths Half
Lot Size: .25 SqFt
Listing ID: 2912747
7 Wadsworth Pl

Smithtown, 11787
$449,000
3 Beds | 2 Baths Full | 0 Baths Half
Lot Size: .25 SqFt
Listing ID: 2912678
7 Leonard St

S. Huntington, 11746
$440,000
4 Beds | 2 Baths Full | 1 Baths Half
Lot Size: .14 SqFt
Listing ID: 3024146
70 Birchbrook Dr

Smithtown, 11787
$437,150
3 Beds | 2 Baths Full | 0 Baths Half
Lot Size: .17 SqFt
Listing ID: 3101381
2286 Walnut Ave

Ronkonkoma, 11779
$425,000
3 Beds | 2 Baths Full | 0 Baths Half
Lot Size: 80X200 .36A SqFt
Listing ID: 2978863
105 Bethpage Rd

Hicksville, 11801
$425,000
3 Beds | 1 Baths Full | 0 Baths Half
Lot Size: 60X100 SqFt
Listing ID: 2925304
95 Pamlico Ave

Ronkonkoma, 11779
$422,500
4 Beds | 2 Baths Full | 0 Baths Half
Lot Size: 100X0 SqFt
Listing ID: 3047844
330 Hubbs Ave

Hauppauge, 11788
$419,990
3 Beds | 2 Baths Full | 0 Baths Half
Lot Size: 84X183 SqFt
Listing ID: 2986305
124 JackieCt

Patchogue, 11772
$419,000
2 Beds | 2 Baths Full | 1 Baths Half
Lot Size: 0X0 SqFt
Listing ID: 2921494
82 Marilynn St

East Islip, 11730
$390,000
3 Beds | 1 Baths Full | 1 Baths Half
Lot Size: 75X150 SqFt
Listing ID: 3010624
17 Miller Ave

Shoreham, 11786
$387,000
4 Beds | 2 Baths Full | 1 Baths Half
Lot Size: .34 SqFt
Listing ID: 2876598
30 Hunter Dr

Smithtown, 11787
$379,000
3 Beds | 1 Baths Full | 0 Baths Half
Lot Size: .17 SqFt
Listing ID: 2920378
26 TerraceLn

Patchogue, 11772
$376,000
3 Beds | 2 Baths Full | 1 Baths Half
Lot Size: SqFt
Listing ID: 2893637
6 Squires Ave

Pt.Jefferson Sta, 11776
$365,000
4 Beds | 2 Baths Full | 0 Baths Half
Lot Size: 0X0 SqFt
Listing ID: 3034483
19 Amity St

Patchogue, 11772
$365,000
3 Beds | 2 Baths Full | 1 Baths Half
Lot Size: 68X211 SqFt
Listing ID: 3068871
17 Sherry Ln

Hauppauge, 11788
$360,000
4 Beds | 2 Baths Full | 1 Baths Half
Lot Size: .25 SqFt
Listing ID: 2992112
16 Perigee Dr

Stony Brook, 11790
$360,000
4 Beds | 2 Baths Full | 0 Baths Half
Lot Size: .35 SqFt
Listing ID: 2963845
47 Elliot Ave

Lake Grove, 11755
$345,000
3 Beds | 3 Baths Full | 0 Baths Half
Lot Size: 0.35 SqFt
Listing ID: 2964499
54 S Ruland Rd

Selden, 11784
$335,000
4 Beds | 2 Baths Full | 0 Baths Half
Lot Size: 75X120 SqFt
Listing ID: 2911168
6 Ambassador Ln

Selden, 11784
$330,000
4 Beds | 1 Baths Full | 1 Baths Half
Lot Size: 75X120 SqFt
Listing ID: 2907064
26 GazeboLn

Holtsville, 11742
$330,000
3 Beds | 2 Baths Full | 1 Baths Half
Lot Size: SqFt
Listing ID: 3082449
101 Dawn Dr

Centereach, 11720
$328,000
4 Beds | 2 Baths Full | 0 Baths Half
Lot Size: 75X170 SqFt
Listing ID: 2962577
38 Commonwealth Ave

Lake Grove, 11755
$320,000
2 Beds | 1 Baths Full | 0 Baths Half
Lot Size: .25 SqFt
Listing ID: 3033469
42 GazeboLn

Holtsville, 11742
$310,500
3 Beds | 2 Baths Full | 1 Baths Half
Lot Size: 0X0 SqFt
Listing ID: 3061959
28 Midday Dr

Centereach, 11720
$300,000
3 Beds | 1 Baths Full | 0 Baths Half
Lot Size: .22 SqFt
Listing ID: 2955461
29 Superior St

Pt.Jefferson Sta, 11776
$280,000
3 Beds | 1 Baths Full | 0 Baths Half
Lot Size: .26 Acres SqFt
Listing ID: 2861145
192 Berkshire Dr

Farmingville, 11738
$234,260
3 Beds | 1 Baths Full | 0 Baths Half
Lot Size: 50X250 SqFt
Listing ID: 2890489
355 Route 111 Unit 42

Smithtown, 11787
$155,000
2 Beds | 1 Baths Full | 0 Baths Half
Lot Size: SqFt
Listing ID: 3032219
40-86 4thSt

Patchogue, 11772
$140,000
2 Beds | 1 Baths Full | 0 Baths Half
Lot Size: SqFt
Listing ID: 2893244
147 Point Circle

Coram, 11727
$140,000
2 Beds | 2 Baths Full | 0 Baths Half
Lot Size: SqFt
Listing ID: 3090629
7 Glen HollowRd Unit B41

Holtsville, 11742
$135,000
1 Beds | 1 Baths Full | 0 Baths Half
Lot Size: SqFt
Listing ID: 3085242
40-156 4thSt

Patchogue, 11772
$132,000
2 Beds | 1 Baths Full | 0 Baths Half
Lot Size: SqFt
Listing ID: 2853137
108 Homestead Dr

Coram, 11727
$130,000
6 Beds | 2 Baths Full | 0 Baths Half
Lot Size: 100X305 SqFt
Listing ID: 2907796
8 BalsamCt

Selden, 11784
$127,500
2 Beds | 1 Baths Full | 0 Baths Half
Lot Size: SqFt
Listing ID: 2988525